Greetings!  We had a really exciting Carnival season this year - a crazy few weeks of working hard and partying harder.  First we got to meet the great
Maceo Parker (!!!)
and check out his intimate show as he kicked off the Krewe of Funky Tucks' annual concert series.  At 73, Maceo still has the moves and the grooves to keep everybody going hard through the night.  He was so warm with the people and funky as hell, and I think nobody had a better time than he did. Here he had the nerve to photobomb a Soul Project selfie: 
The next night, we played the same room and kept the Funky Tucks die-hard funk fans shakin their funky tailfeathers late into the night...
...got a few minutes of rest and then...
...we were up at the buttcrack of dawn the next morning to roll in the Tucks Parade and inaugurate the newest, most bad-assest Mardi Gras float of all...what we might call a Rolling Embassy of Funk...
The Funky Uncle Lounge!!!
The official Ambassador of Funk spreading a liberal dose of Funk unto the People:
His able cohorts:
Jeremy
A-A-ron aka Aaron Walker
David
Stage Manger and Safety Officer Mark and "Magic' Wanda
On a float on the highway above our great city
The next day it was time to jam with Matador! Soul Sounds, a new project from Eddie Roberts (New Mastersounds) and Alan Evans (Soulive).  These guys are the real deal! And total sweethearts.          
..
..
Eddie is a boss
It should be time to rest, regroup, bask in the glory of our accomplishments and kick up our heels after a fantastic Carnival, but The Soul Project is just gathering steam.  This Sunday is the long-awaited release party and we can't wait! We've been busy working our new material and dusting off some old favorites.  So many old friends will be coming through and sharing the stage with us, notably our musical godfather
Walter 'Wolfman' Washington. 
 We will have a monster horn section on several tunes with at least 5 of NOLA's finest...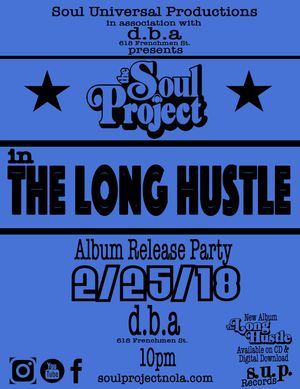 ...
Phew! It's definitely been a Long Hustle...but the Soul Project is shifting gears and making moves!
French Quarter Fest and Jazz Fest are coming up, we plan to hit the road this summer and we're starting to work out new material for the next album.  
Stayed tuned for more and as always,
Keep It Funky!!!