Soul Project NOLA Brings the Funk to Lizzie Rose
Sound Waves
July 12, 2023
By MONIQUE M. DEMOPOULOS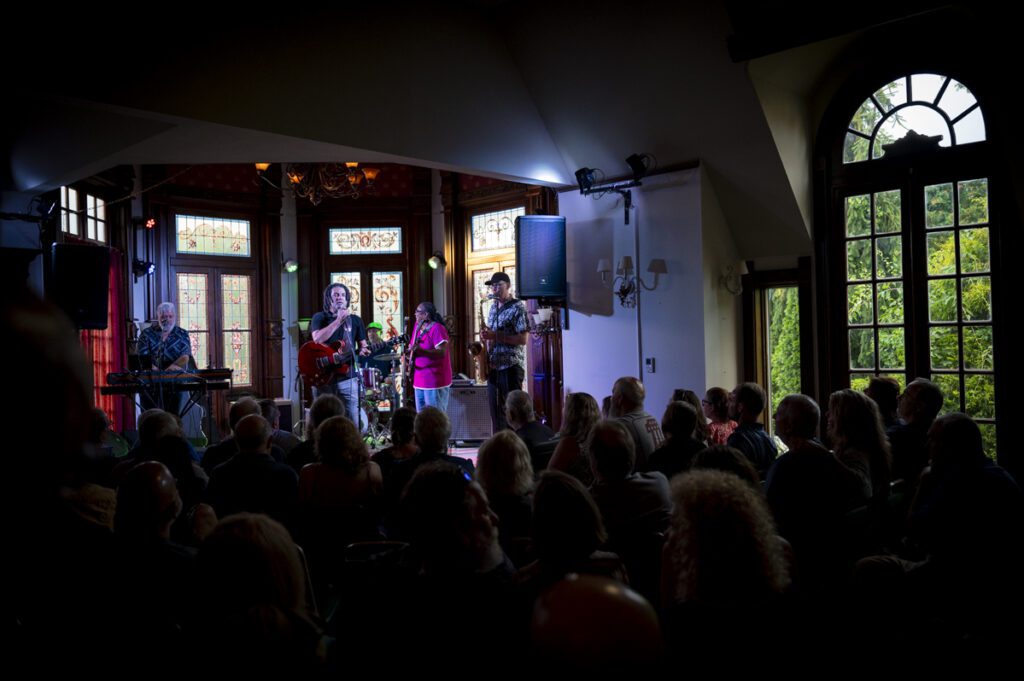 (Photos by Ryan Morrill)
Launched in 2014 in the heart of charming historic Tuckerton, the Lizzie Rose Music Room operates entirely on volunteerism, memberships and donations with the sole purpose of bringing a variety of live music – both local and traveling acts – to the shore. Soul Project arrived Thursday, bringing the heavy, humid heat of New Orleans with them, and threw down two spirited sets of funk, soul and jazz to kickstart the weekend.
Storytime. Just prior to writing for The SandPaper, this columnist (traveling full time for work) found herself frequently in New Orleans for the cultural immersion. Nothing compares to the atmosphere of that city: the thick aroma of soul food wafting through the air, the vibrant art lining every block and, most notably, live jazz music literally marching down every street.
When visiting New Orleans, if the plan is to get plastered, purchase some beads or a generic T-shirt and hear tired Jimmy Buffett and Lynyrd Skynyrd covers, head to Bourbon Street. To hear real music, hit any one of the clubs along Frenchman Street, where jazz, soul, funk and R&B are pouring out. Most clubs have no cover, just a two-drink minimum, but the clubs with a cover usually have something exciting in store.
It was meandering in and out of venues on Frenchman in June 2017 that this solo traveler stumbled upon Soul Project NOLA, delivering a funk fusion so distinct from what was happening in neighboring clubs and summoning people in from the streets in a near hypnosis. For the next three consecutive nights, she poked around Frenchman until lured in by the same hypnotic soul music.
The following month, after four years of traveling with no home base, a weary traveler decided to make a home base in her familiar stomping grounds of West Creek. On move-in day (coincidentally, her birthday) the Lizzie Rose marquee read "SOUL PROJECT NOLA TONIGHT."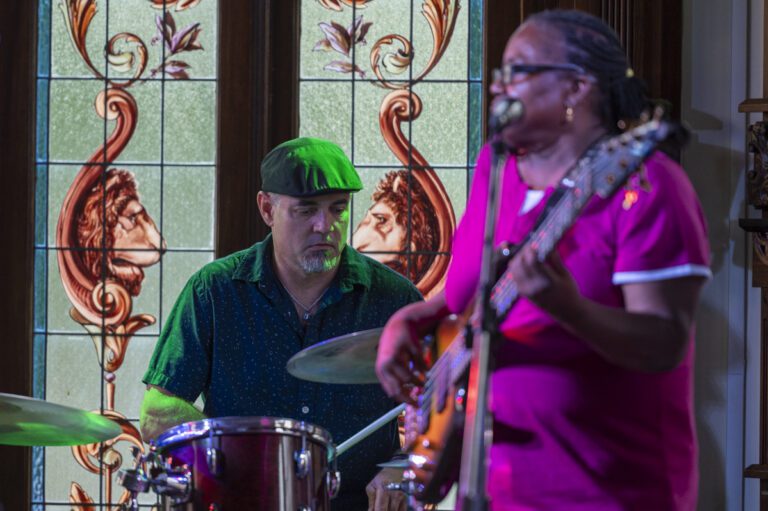 Almost exactly six years later, Soul Project's Tuckerton stop on a long East Coast tour has landed squarely in Sound Waves, a dream fulfilled. Founding guitarist Jon Cristian Duque happily sat down with The SandPaper to give backstage insight, including the story behind his Jersey connections, especially with many of his family members in the front row at his show.
Born in Chile, Duque relocated with his family to Pine Beach, N.J., his mother's home. His maternal grandfather, Capt. Norman F. Reinhard, was commandant of Admiral Farragut Military Academy.
Duque grew up on the Jersey Shore until he relocated to New Orleans on New Year's Day, 2000,  and discovered a whole new world of music. He took a job waiting tables at the convention center ("thank God I was terrible at it," he quipped) before landing a side stage security gig at legendary New Orleans music venue, Tipitina's.  It was there that he was exposed to the music of the Neville Brothers, George Porter, the Meters, and so on. Soon after, he became a protege of legendary Walter "Wolfman" Washington. He made it his mission to carry on the traditions he learned from being in Washington's band, The Roadmasters, through the many iterations of the Soul Project.
After Hurricane Katrina overtook the city in 2005, Duque and his band were forced to make a home on the Jersey Shore for nearly nine months. "We brought almost 10 people up from New Orleans," he said, explaining his home state and its music patrons were incredibly generous, enabling him to raise funds for impacted musicians. They were able to gig nightly for the entire duration. "It was great and we survived and we went home, but we always bring it back, because you know, that was the start where everything was really rolling."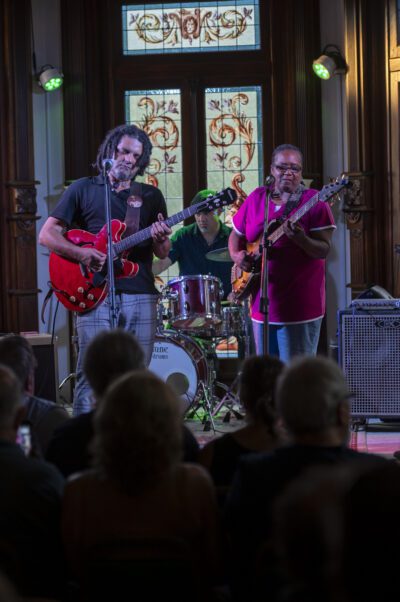 All NOLA musicians go on tour in the summer, Duque said, "because number one, it's freakin' hot! Number two, there's money to be made on the run."
With heaps of gratitude, the band returns year after year and Duque was pleased to report, "Now we come back and there's a New Orleans sound everywhere!" He referenced Asbury Park's Ocean Avenue Steppers as one great example that Soul Project has enjoyed jamming alongside. The band is pleased to see the tight-knit nature of NOLA musicianship spreading to other hotbeds around the nation.
"I personally believe all American music, besides the gospel side of it – and even a lot of that – came through New Orleans and it was disseminated through the rest of the country, traveling up the rivers and so on," Duque said, lovingly describing the city as a cultural gumbo. "As far as I'm concerned, it all came from New Orleans."
Still, many of his lyrics were written in Jersey, and he gladly prefaced many songs with their origin stories. For example, "SLY (Someone Like You)" was written by a girl in an Asbury Park pizzeria, he credited. The band delivered a hefty dose of soul, completely transforming the song from its boardwalk beginnings into a musician's playground. The saxophonist even surprised the audience, throwing his sax aside to spit an old-school hip hop verse, complementing Duque's rock riffs.
Duque introduced another tune, "Miss You Baby," as being "all about how I got stuck in Belmar and met the woman who would become my ex-wife." After a laugh from the audience, he added, "Listen, she helped me write this song, so I'll give credit where credit's due!"
Three years ago, Soul Project was headed for a burnout, Duque said, and made it their goal to perform fewer gigs for more money. Then the pandemic hit and there were neither gigs nor money, which turned out to yield tremendous growth for the band. "It was actually a good time to recharge," Duque said.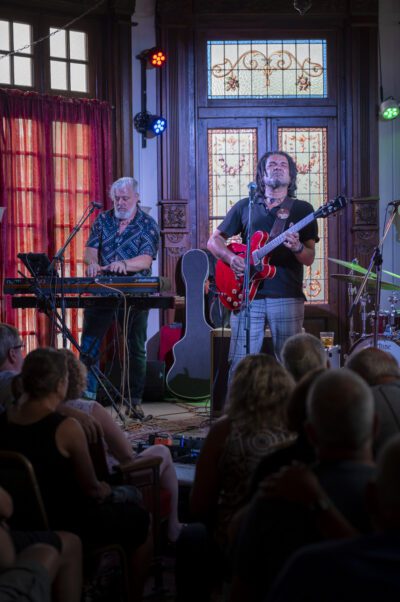 In the same spirit of fellowship that buoyed Soul Project through the Katrina aftermath, Duque and his gang put together the Funky Uncle Live to carry musicians and fellow gig workers through the pandemic with the mission of bringing the funk to the people.
Since April 3, 2020, the Funky Uncle produced 207 livestream concerts, enabling them to raise over $850,000 that went to the employment and grant funding of over 900 musicians and grant workers. Each of the 207 concerts featured a different lineup of musicians, except for the Funky Uncle anniversary. The mission continues today as a way to provide support and archive all those vital to NOLA heritage and traditions. (Visit thefunkyuncle.live to learn more.)
Soul Project emerged from the pandemic renewed and with a complete lineup turnover, and now the goal is to refine their sound before getting back into the studio. "These guys are the cream of the crop," Duque was pleased to share. "The band is just getting better and better and the songs are evolving."
They performed a sample of tunes from Soul Project's debut album as well as their latest release, The Long Hustle, and Duque was not wrong about said evolution. The latest Soul Project was dynamic in every department. The band's grooves were tight, their transitions smooth, their harmonies on point, their negative space intentional and tasteful. The five-piece threw down a massive sound, then lulled the audience into a soft calm before building back into high tide all over again. Though the Lizzie Rose was not designed for patrons to be out of their seats, patrons shimmied and bounced along in their chairs with hands clapping and toes tapping almost independently.
Duque and longtime bandmate, Grammy-winning NOLA native Wanda Joseph, on bass and vocals are now joined by Wayne Maureau on drums, "Mikey B3" Burkart on keys and vocals, and Eric Bernhardt on sax and vocals.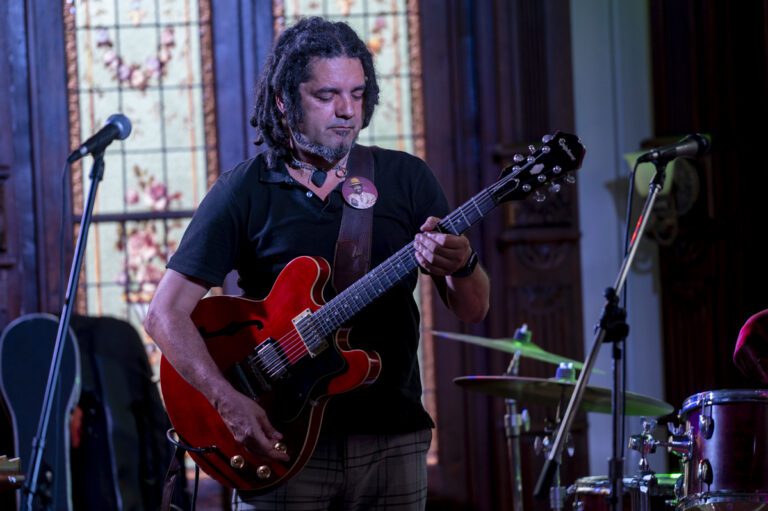 Joseph grew up a descendant of NOLA royalty, observing the soul movement in the making as the daughter of drummer Vernell "Joe Gunn" Joseph, who played among greats Irma Thomas, Ernie K-Doe and Tommy Ridgly, to name a few. She is known for her soulful grooves and gorgeous harmonies and, more recently, she was awarded a Grammy for her work with Jon Batiste.
Burkart is another seasoned veteran in the music scene, rooted in the city's traditions of rock, soul, R&B and swamp funk. He seamlessly merges the sounds of the Hammond B3, Fender Rhodes, piano, synth and clavinet into Soul Project's sonic tapestry. The way he glides across the keys, it almost appears as though he's hovering just above them. Beyond Soul Project, Burkart fronts his own keyboard-forward band (the Mikey B3 Band) reminiscent of Deep Purple, Fishbone, Muddy Swamp and the Meters.
Bernhardt earned his master's degree at the University of Denver in jazz and commercial music composition and has since been honing his skills in big bands, small jazz ensembles and R&B outfits, performing at Jazz Fest and French Quarter Fest. He was a soloist in Jump, Jive, and Wail: the Music of Louis Prima. Outside of Soul Project, Bernhardt leads two original outfits: Noggin and a jazz group called the Four Sidemen of the Apocalypse.
Born and raised in New Orleans, Maureau has been a staple not just in his hometown but all over the world. Known for his versatility across genres, he has performed all over and has been featured on countless recordings in his 30 years on the scene. He serves as adjunct faculty percussion instructor at Loyola University, where he is a member of the Faculty Jazz Septet and instructs the Latin Jazz Ensemble. He holds several endorsements and, in 2005, published The Multi-Stylist Drummer, a method book detailing his versatile approach to drumming.
Maureau performs with various groups, but the common thread he shared with Duque was his ties to Wolfman Washington, having drummed for the Roadmasters and the Wolfman Trio for over 15 years.
"Wayne was born and raised in New Orleans and he would go see Walter back when he was way young," Duque said on behalf of Maureau. "He'd sneak into the Maple Leaf to go see (Wilbert) "Junkyard Dog" (Arnold) and all the greats," he continued. "The masters, every day, are still playing in New Orleans. You can talk to them, you can listen to them and you can't help but be turned on by it. That's for sure."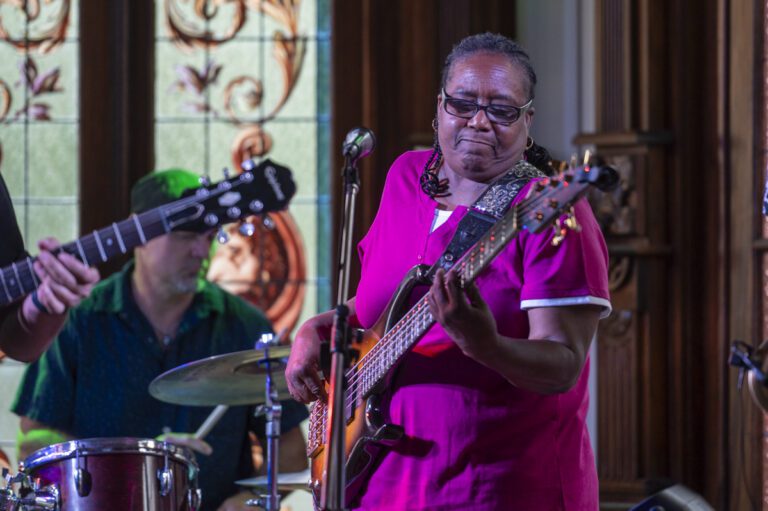 Washington was among the city's legends, and Duque was grateful to have witnessed his genius, playing beside him for 23 years. "I saw some of them (shows) back before Walter had teeth," he chuckled. "Because for a long time he had no teeth and he finally got the money to get his teeth." That must have been a milestone for a musician remembered for his enormous, toothy grin.
Washington passed away Dec. 22, 2022, just two days after his 79th birthday. After decades of howling new life into a fusion of blues, funk, R&B and soul, he succumbed to cancer, but not without first dropping a 2018 record and marrying longtime girlfriend Michelle Bushey at Tipitinas in 2021.
Hundreds honored Washington in classic NOLA style, with jazz musicians, including Trombone Shorty and an all-star horn band, marching him down to the cemetery. "That was a funeral, man," Duque wistfully recalled. "The second line, there had to be 500 people by the time we were done."
When it comes to sonic inspiration, Duque said, "First, it's New Orleans, period. Then, it's Walter 'Wolfman' Washington." The band performed a string of Washington tributes, opening set two with "Funk Is in the House," as they've made it their mission to carry his legacy onward.
They also paid tribute to a handful of other influential icons, such as The Neville Brothers, with "Voodoo," and Jimmy Smith, with "Root Down and Get It," which spotlighted each of the band members, especially highlighting Maureau's chops and winning him a standing ovation. They even obliged a request for jazz parade-special "Feet Don't Fail Me Now."
Joseph stepped into the spotlight herself, taking lead vocals on Bobby Caldwell's "What You Won't Do for Love." Her singing swooned listeners while she simultaneously held down the pocket with melodic bass work.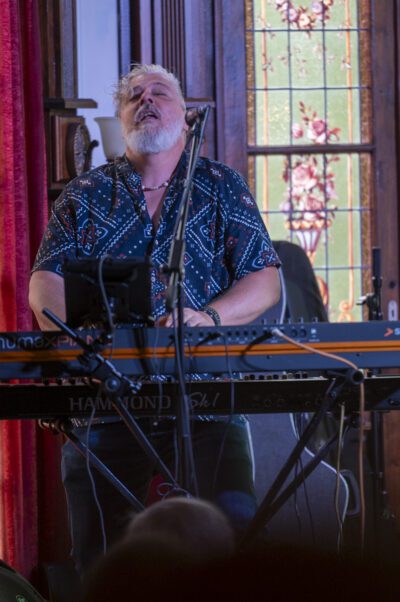 >Most surprising, perhaps, was the total metamorphosis of the Beatles' "Blackbird," which began as a gentle, harmonic lullaby sung by Duque and Joseph. Burkart and Bernhardt each added their flourishes around the building cadence of Maureau's street beat until they swelled into the jubilation of a full-on New Orleans marching song. Just as things came to a boil, they tactfully simmered the tune back down and tucked it into bed.
While in New Orleans, the band stays steeped in passion, performing at their favorite venues to hear music in: d.b.a., the Maple Leaf and Tipitinas. Now, on their summer tour, their aim is to fill their schedule with music, as it's the best part. The worst part, according to Maureau, is the downtime spent waiting to play.
"George Porter always says you can tell musicians are dedicated to what they do because they spend 22 hours a day sitting around, waiting, hanging out, traveling … just so they can have that two hours on stage," Maureau expressed. "That's really how it is. The down time can wear on you a little bit, but the performance makes up for it. Obviously, the best part is performing for people those couple hours that we're on stage every night."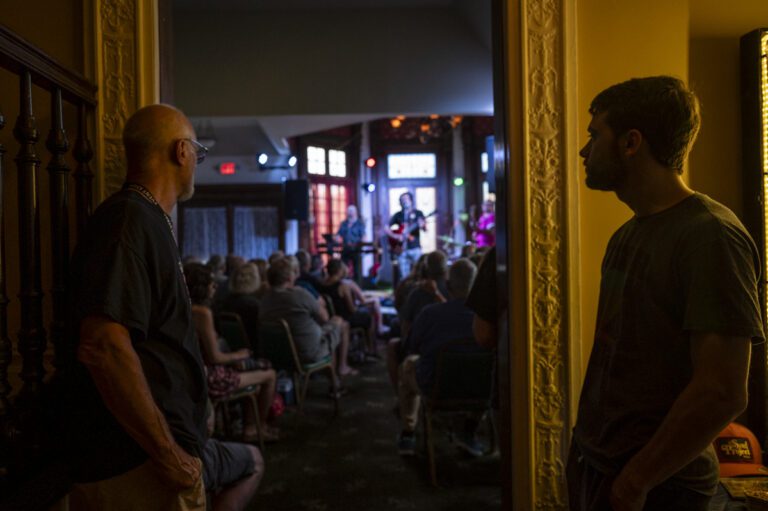 They packed it in at Lizzie Rose before heading back out on the road to hit a few more Jersey Shore venues, followed by a jaunt in Vermont and a two-week stint in Norway. When they return to NOLA, they'll back Mikey B3's band for a change at the Maple Leaf. Then, Duque hopes to channel the richness of his now tried and true Soul Project into a forthcoming record.
Visit soulprojectnola.com or @soulprojectnola on Instagram to stay in the know.